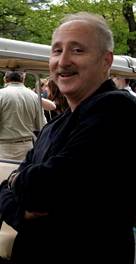 Lewis Rosengarten, Composer

Holding degrees in composition from Colgate University (BA), Ithaca College (MM,) and Indiana University (DM), Lewis studied with Karel Husa, Harvey Sollberger, Donald Erb, Dexter Morrill, and John Eaton. With numerous honors and awards, Lewis notably was an ASCAP/Nissim winner with a performance of his song cycle, "4 Poems of Arnaut Daniel" by the Alabama Symphony, a Keck grant recipient, and composed the music for performances of Seamus Haney's "Burial at Thebes (a version of Antigone)." His work for soprano and piano, "In Night" was selected for performance by Cortland Community Arts Challenge and performed in 2012. Lewis recently took the position of the Educational Opportunity Program Director at SUNY Cortland, bringing him to the community.
Contact: lewis.rosengarten@cortland.edu


Music Excerpts:
Flute Concertina
In Night
Octan
Arnaut 2nd Song
Trio
Latin Music Excerpts:
Track 1
Track 2
Track 3
Track 4
Track 5
Track 6
Track 7
Track 8
Track 9
Track 10
Track 11
Track 12
Track 13
Track 14
Track 15
"The views and opinions expressed in this page are strictly those of the page author. The contents of this linked page have not been reviewed or approved by SUNY Cortland."
INSPIRED BY ALL MODES AND STYLES AVAILABLE ACROSS OUR GOOD PLANET